Otherwise Known As The Star Of David Or Creator Star And The Seal Of Solomon .
Well our fellow brothers and sisters
Normally we at Sovereignaustralian stay away from such petty debates or arguments however in this case it has become apparent that some people really need a lesson in occult histories, particularly on the Creators Star otherwise known as the seal of Solomon or the star of David .
We are sure If You were a Christian you would be concerned if you found out that you had been worshipping false idols ,gods and ancient symbolism from the pre flood times for centuries and decades without realising it ,wouldn't you ?
Thats right pre flood, The time when Man was so wicked that the big guy upstairs decided to wipe us all out.
Symbolism was everywhere in ancient times and many false idols were worshipped.
It was a time when symbology was of great importance to the wicked hearts of man and their rulers.
These symbols are still in use today and many are still ignorant to there meanings and use in cult like settings of old and today.
Note : The oldest known symbols are depicted on the buildings , temples and areas of sacrificing in the old world and the new world just like these were .
Note: According To Scripture man become wicked and made false idols and gods of their own image against God ,thus being the reason for the deluge.
We at Sovereign Australian found ourselves under attack some time ago for displaying facts and historical documents that didn't support certain individuals agendas .
To put it simply these people do not agree with the well documented facts, evidence and the many well documented articles displayed here at Sovereign Australian and the thousands of other research sites, by the many Doctors, professors ,Phd holders and the professionals of archaeology and history author's alike.
These historical documents were to do with a few things.
Flags , Religion , Occult symbology and various well documented and factual recorded histories .
These groups of individuals are accusing Sovereign Australian of misleading the public .
The attacks on Sovereignaustralian and Australian red ensign have been brought about due mainly to history we have displayed on our Red Ensign Flag of the Commonwealth of Australia and the symbolism behind the 3 original Red Ensign designs.
The main design in Question is the unofficial 1901 star of david design, of which some individuals are claiming it to be the kings flag,the federal land Flag,federation flag and a series of other unofficial names these individuals thought up , with No factual information to back up their claim we might add.
Photos are not facts of legitimacy and we do not dispute the use of said flags by the civilian population.
The main reason for the uneducated attacks are due to the symbology articles behind such a flag displaying the occult star of david.
Fact : The king never approved the 1901 Red or Blue Ensign of The Commonwealth Of Australia this is a fact.
Fact : The 1903 version and the first Ensign to receive Royal approval was depicted without the star of David otherwise know as the creator star or star of Moloch.
For those still unawares or Ignorant to the symbolic meanings we shall be discussing Moloch And The Creator star indepth in this article.
Below photos show: Our first Gazzetted approved assented Australian Red and Blue Ensign of the Free People and our Government.
It is alleged by these individuals that the creator star ,star of David or otherwise known as the seal of Solomon depicted in our 1901 to 1903 is the offical correct star of our Commonwealth of Australia, The Red Ensign Flag of the people.
These groups of individuals are clearly lacking the research skills and education needed to inform a sleeping public of the trespass against us ,as the information on these subjects is regularly available all over the internet and Government Gazzettes and hansards.
As the documents above show ,there is No star of David ,No seal of solomon ,No creator star or ties to Moloch the occult or the Catholic church Realm on the official Gazzetted approved Red or Blue Ensign of The Commonwealth Of Australia.
One Must also remember the 1901 design , never recived any officially recorded Assent nor was it ever Gazzetted Approved or recorded in any Parliment Hansards to our knowledge.
Disclaimer Note :
At no point has Sovereign Australian attacked the ANZACS or the Australian people for flying the 1901 version of the red ensign, we have merely pointed out why the winning competition design never recived royal approval and the likelihood of the symbolic reasoning for why it never recived such approvals to fly in a Christian Protestant Imperial Crown Realm .
We do not deny our history good or bad , we merely display the facts ,and the fact is the 1901 version is part of our history regardless of how ignorant the public is in regards to the Occult.
Just as we see a ignorant public flying the Blue Ensign of The Commonwealth Of Australia in todays age claiming our ww1 ww2 diggers fought and died for it, so to was the public ignorant to the meaning behind the symbolism of the 1901 star of david depiction.
Ignorance is bliss to many so it seems.
After all unless one has been made aware or actively seeks truth how would one possibly of known ?
The Below depiction clearly shows symbolism tied to Moloch.
If you dont know who Moloch is Read on , its not a pretty story.
In a world full of evil doers and symbolism, secret societys devil worshipping ,codex and just good old trespass against mankind,its important to comprehend the ancient art of symbolism.
So lets look at the ancient world symbolism tied to this particular Occult creator Star.
King James Bible
Yea, ye took up the tabernacle of Moloch, and the star of your god Remphan, figures which ye made to worship them: and I will carry you away beyond Babylon.
Lets meet the God Of such a star.
The True History Of Moloch, The Ancient God Of Child Sacrifice
By Marco Margarito.
Condemned by biblical prophets and Roman senators alike, few pagan deities were as reviled as Moloch, a god whose bronze body was a furnace for sacrificing children.
Child sacrifice is non-existent today — hopefully — but that hasn't always been the case. In ancient times, it was commonly associated with people hoping for greater fertility for either a person or the land but one cult stands out from the rest: the cult of Moloch, the Canaanite god of child sacrifice.
The cult of Moloch — who is also called Molech — is said to have boiled children alive in the bowels of a big, bronze statue with the body of a man and the head of a bull. Offerings, at least according to the Hebrew Bible, were to be reaped through either fire or war — and devotees can still be found today.
Who Is Moloch?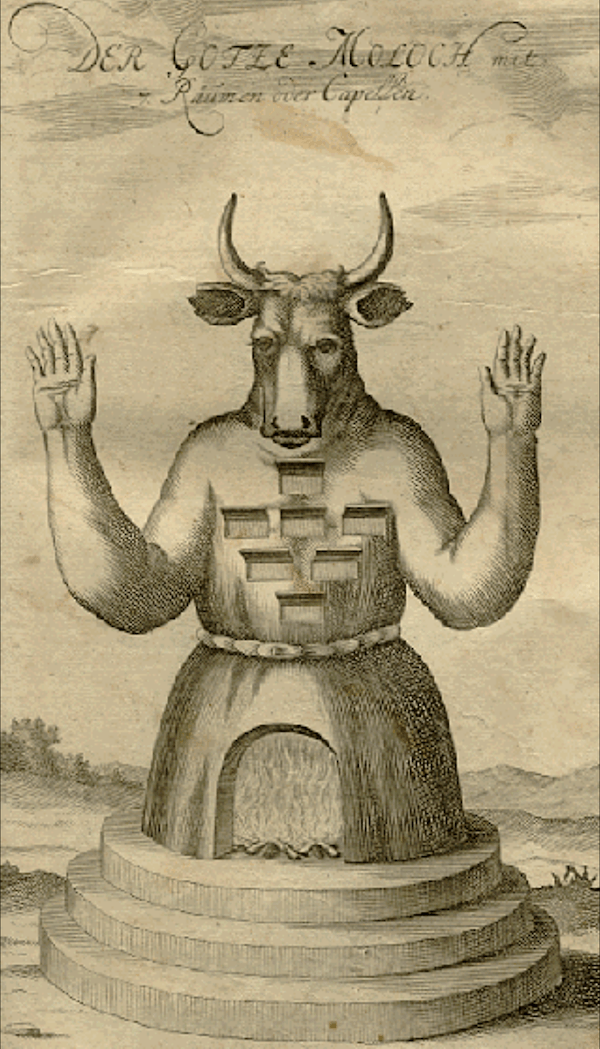 18th-century depiction of the Moloch idol, "The idol Moloch with seven chambers or chapels." It was believed these statues had seven chambers, one of which was reserved for child sacrifices.
The religion of the Canaanites was a hodgepodge of ancient Semitic faiths. Practiced by the people of the Levant region from at least the early Bronze Age, the cult of Moloch was still active into the first few centuries of the Common Era.
Moloch's name derives from the Hebrew word mlk, which usually stands for melek, or "king." As this is vocalized as molek in the Masoretic text — the authoritative text for Rabbinic Judaism — the pronunciation has become its traditional name.
The Masoretic text dates to the Middle Ages but references to a Molock appear in Ancient Greek translations of old Judaic texts as well. The distinction dates back to the Second Temple period between 516 B.C. and 70 C.E. — when the Second Temple of Jerusalem stood prior to its destruction by the Romans.
Moloch's anthropomorphized bull figure was typically pictured in Rabbinic Judaic texts as a bronze statue internally heated by a fire. It was inside this construct that priests or parents placed their children to be consumed by fire as a sacrificial offering.
Ancient Greek and Roman authors wrote tales of this practice, with the earliest being stories of child sacrifices to Baal — or Master — Hammon in Carthage. He was their chief god, responsible for the weather and fertile agriculture.
In the Bible, children were sacrificed in a Tophet, a shrine reserved for child sacrifice, outside of Jerusalem to Moloch's satisfaction. While certainly well-documented in religious texts, the historical and archaeological communities still debate Moloch's identity and just how active its cult was.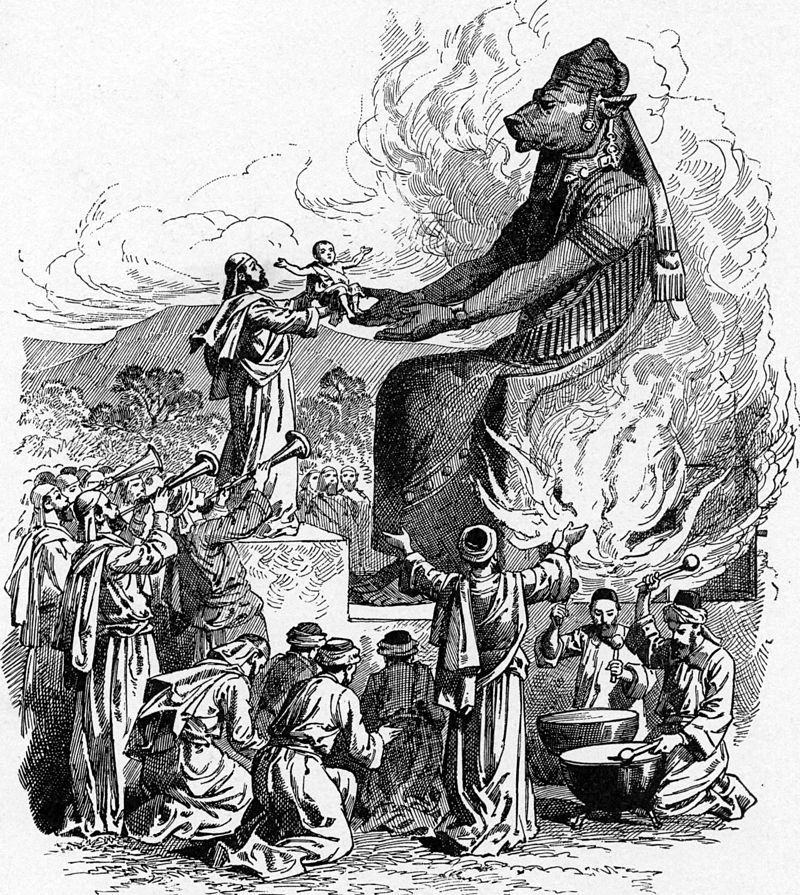 Wikimedia CommonsAn illustration from Charles Foster's 1897 Bible Pictures and What They Teach Us, depicting an offering to Moloch.
Medieval French rabbi Schlomo Yitzchaki, otherwise known as Rashi, wrote an extensive commentary on the Talmud in the 12th century. His analysis of Book of Jeremiah 7:31 painted a vivid picture of the sacraments of Moloch's worship as related in the Hebrew texts:
"Topheth is Moloch, which was made of brass; and they heated him from his lower parts; and his hands being stretched out, and made hot, they put the child between his hands, and it was burnt; when it vehemently cried out; but the priests beat a drum, that the father might not hear the voice of his son, and his heart might not be moved."
Archaeological excavations in the 1920s then discovered primary evidence of child sacrifice in the region and researchers also found the term MLK inscribed on numerous artifacts.
Child sacrifice in Carthage, meanwhile, appears to have been common enough that it even contained a sacred grove and a temple dedicated to its cult of Baal Hammon.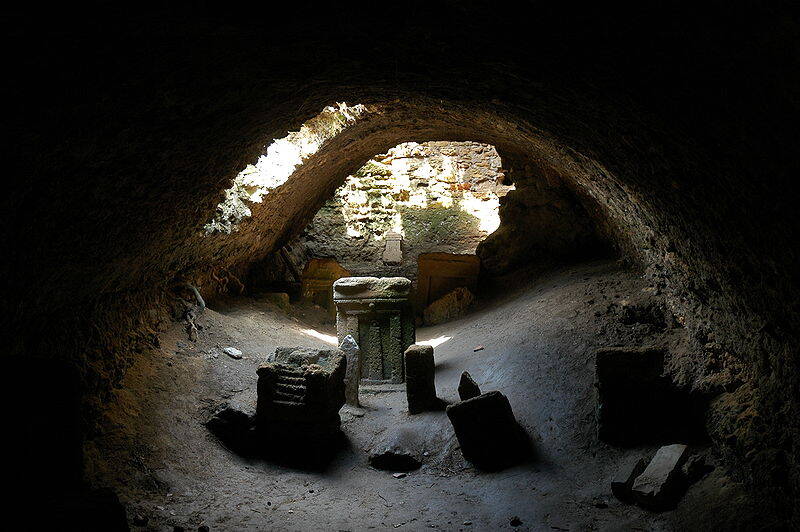 Stone slabs in the Tophet of Salammbó, which was covered by a vault built in the Roman period. This is one of the Tophets Carthaginians would sacrifice children in.
Though the Biblical account describes children being "passed through the fire" to Moloch in a Tophet, a ritual site of sacrifice in ancient Judaism, Hebrew prophets are universal in their condemnation of the practice — suggesting that such sacrifices might have been made to the Abrahamic God by some cult but were condemned and cast out of the orthodox faith as anathema.
Scholars also still debate whether or not the Carthaginian practice of child sacrifice differed from the cult of Moloch. It's generally understood that Carthage only sacrificed children when it was absolutely necessary — like an especially bad draught — whereas the cult of Moloch were much more regular in their sacrifices.
Some believe attendees of the exclusive Bohemian Grove club worship Moloch. The statue more closely resembles Minerva, the Roman goddess of war, however.
Some researchers even argue that these cults didn't sacrifice children at all and that "passing through the fire" is a poetic term — a common feature of religious texts — that most likely referred to initiation rites that may have been painful, but not deadly. After all, the Christian term "born again" is not meant to be taken literally to mean passing out of your mother's womb a second time, something Jesus points out himself.
Moloch is most frequently referred to in Leviticus:
Leviticus 18:21: "And thou shalt not let any of thy seed pass through the fire to Molech, neither shalt thou profane the name of they God:
I am the LORD."
Leviticus 20:2: "Again, thou shalt say to the children of Israel…that giveth any of his seed unto Molech; he shall surely be put to death.
"Leviticus 20:3: "He hath given of his seed unto Molech, to defile my sanctuary, and to profane my holy name.
"Leviticus 20:4: "And if the people of the land do any ways hide their eyes from the man, when he giveth his seed unto Molech, and kill him not."
Leviticus 20:5: "I will set my face against that man, and against his family, and will cut him off, and all that go a whoring after him, to commit whoredom with Molech, from among their people."
Scholars have compared these Biblical references to Greek and Latin accounts which spoke of fire-centric child sacrifices in the Carthaginian city of Punic. Plutarch, for instance, wrote of burning children as an offering Baal Hammon, though they mistakenly attribute these sacrifices to the Roman gods Chronos and Saturn.
Greek and Latin sources from Cleitarchus and Diodorus Siculus to Plutarch all mentioned the burning of children as an offering to Cronus or Saturn — or Baal Hammon, the chief god of Carthage. Seen here is Saturn devouring one of his sons.
Complicating matters is that there is every reason to believe these accounts were exaggerated by the Romans to make the Carthaginians appear crueler and more primitive than they were — they were the bitter enemies of Rome, after all.
Moloch In Modern Culture
The ancient practice of child sacrifice found renewed footing with medieval and modern interpretations that influence our culture to this day.
"First MOLOCH, horrid King besmear'd with blood
Of human sacrifice, and parents tears,
Though, for the noyse of Drums and Timbrels loud,
Their children's cries unheard that passed through fire." — John Milton, Paradise Lost
English poet John Milton's 1667 masterpiece, Paradise Lost, describes Moloch as one of Satan's chief warriors and one of the greatest fallen angels the Devil has on his side. He is given a speech at Hell's parliament where he advocates for immediate war against God and is then revered on Earth as a pagan god, much to God's chagrin.
A scene depicting the temple of Moloch from Giovanni Pastroni's silent 1914 film Cabiria.
Gustave Flaubert's 1862 novel about Carthage, Salammbô depicted the purportedly historical process of Carthaginian child sacrifice in poetic detail:
"The victims, when scarcely at the edge of the opening, disappeared like a drop of water on a red-hot plate, and white smoke rose amid the great scarlet colour. Nevertheless, the appetite of the god was not appeased. He ever wished for more. In order to furnish him with a larger supply, the victims were piled up on his hands with a big chain above them which kept them in their place."
Italian director Giovanni Pastrone's 1914 film Cabiria was based on the novel by Gustave Flaubert, and presented this deadly boiling pot as Flaubert described in his book. From Allen Ginsberg's Howl to Robin Hardy's 1975 horror classic The Wicker Man — varying depictions of this cult practice abound.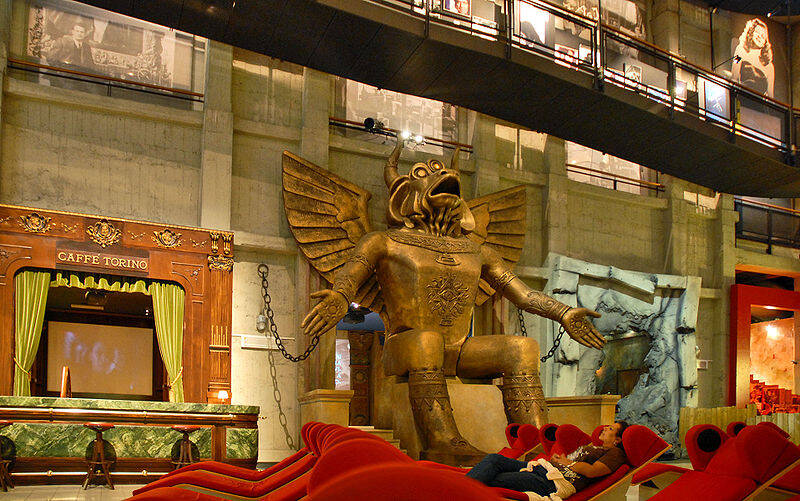 Most recently, an exhibit celebrating ancient Carthage popped up in Rome. A golden statue of Moloch was placed outside of the Roman Colosseum in November 2019 as a memorial of sorts to the defeated enemy of the Roman Republic and the version of Moloch used was purportedly based on the one Pastrone used in his film — down to the bronze furnace in its chest.
While conspiracy theorists have claimed this is yet another perversion of the culture — a reviled occult symbol of child sacrifice being forced upon unsuspecting citizens — the truth may be less dramatic. The history of humanity is riddled with horror, true, but at the same time, it is also littered with strange modern art.
---
After learning about Moloch the Canaanite god of child sacrifice, read about human sacrifice in the pre-Columbian Americas and separate fact from fiction. Then, learn about the dark history of Mormonism — from child brides to mass murder.
Lets Not Forget Moloch is best mates with Baphomet
The first known mention of Baphomet was in a letter written in 1098 by Anselm of Ribemont describing the Siege of Antioch during the First Crusade. Anselm stated that the Turks "called loudly upon Baphomet." Most scholars believe that the word refers to Muhammad, the founder of Islam.
In 1307 Philip IV of France had every Templar in France arrested, accusing them of such heretical acts as idolatrous worship of a bearded male head called Baphomet. By the 19th century Freemasons had also been said to worship Baphomet.
Origins of the star of Moloch/Saturn
The so called Star of David ,called the Shield of David by modern Jews, is recognized as a symbol of modern Jewry.
But what is its origin?
In 1897 the First Zionist Congress chose it to represent worldwide Jewry.
Its identification with Jews surprisingly is not ancient Israelite but instead started in medieval Jewish communities.
"Then the Zionists came, seeking to restore the ancient glories-or more correctly, to change the face of their people. When they chose it as a symbol for Zionism at the Basle Congress of 1897, the Shield of David was possessed of two virtues that met the requirements of men in quest of a symbol: on the one hand, its wide diffusion during the previous century-its appearance on every new synagogue, on the stationery of many charitable organizations, etc.-had made it known to everybody; and on the other, it was not explicitly identified with a religious association in the consciousness of their contemporaries. This lack became its virtue. The symbol did not arouse memories of the past: it could be filled with hope for the future."1
The HEXAGRAM symbol began to be used by Jews in the Pale of Settlement, different areas in western Russia where Jews were allowed to live between 1791 and 1917.
According to Gershom Sholem, the motive for the widespread use of the Star of David was a wish to imitate Christianity. During the Emancipation, Jews needed a symbol of Judaism parallel to the cross, the universal symbol of Christianity. In particular, they wanted something to adorn the walls of the modern Jewish house of worship that would be symbolic like the cross. This is why the Star of David became prominent in the nineteenth century and why it was later used on ritual objects and in synagogues and eventually reached Poland and Russia. The pursuit of imitation, in Sholem's opinion, led to the dissemination of an emblem that was not really Jewish and conveyed no Jewish message. In his opinion, it was also the reason why the Star of David satisfied Zionism: it was a symbol which had already attained wide circulation among the Jewish communities but at the same time evoked no clear-cut religious associations. The Star of David became the emblem of Zionist Jews everywhere. Non-Jews regarded it as representing not only the Zionist current in Judaism, but Jewry as a whole.2
This star also called the Seal of Solomon has ancient origins in various semitic religions. The Arabs are created with calling it the Seal of Solomon,though this name was applied to several different magic seals. The idea relating back to myths of Solomon having control over spirits and demons.3
These Eastern magic rituals were a heavy influence on medieval alchemists and sorcerers. The symbol has also been found as decoration on Christian churches before its documented use by Jewry. Before the 19th century, official use in Jewish communities was generally known only in the region of today's Czech republic, Austria and possibly parts of Southern Germany, having begun in medieval Prague.4
In Kabbalistic use the symbol had several different mystical concepts including male and female representations, however the triangles that represent this are parallel to each other and do not form a hexagram . 5
What is the origin of the hexagram? Apparently from what scholars can gather in ancient Mesopotamia a sun-god religion was started. Its mythos included Saturn , which was usually the father or creator of other gods. Most other god myths have a similar pattern to it. Many of the gods have differing names but the same function in the different cultures they appear in.
There is No evidence that King David used the hexagram star. The shape of the star is not mentioned in the Bible. Astrology and planet/star worship however is highly condemned. However Its possible that King Solomon brought the symbol to the Israelites through his own demon worship when he turned away from God. Solomon took strange women from all the nations the Lord had forbidden and these mongrel women turned Solomon to mongrel Gods. 3Kings 11.1-8 LXX
Solomon is said to have built altars to the Idol of Chamos,idol of Ammon ,and Astarte. There is not much known about Chamos or Chemosh but most scholars believe it was the same or similar to Moloch or Baal and also associated with Astarte who they believe was worshiped in the temple of Chamos.6
Moloch was the god of the Ammonites. Astarte was another form of Ishtar a semitic star goddess associated with Venus, whose symbol is an eight pointed star. Moloch was a god depicted with a bull's head to who child sacrifices were made.
The 12th-century rabbi Rashi, commenting on Jeremiah 7.31 stated: Tophet(Tapeth) is Moloch, which was made of brass; and they heated him from his lower parts; and his hands being stretched out, and made hot, they put the child between his hands, and it was burnt; when it vehemently cried out; but the priests beat a drum, that the father might not hear the voice of his son, and his heart might not be moved.
And he defiled Tapheth which is in the valley of the son of Ennom constructed for a man to cause his son or daughter to pass through the fire of Moloch. 4 Kings 23.11 LXX
Moloch, also spelled Molech, a Canaanite deity associated in biblical sources with the practice of child sacrifice. The name derives from combining the consonants of the Hebrew melech ("king") with the vowels of boshet ("shame"), the latter often being used in the Old Testament as a variant name for the popular god Baal("Lord"). The consort of Baal was Astarte. 7 Baal was also depicted with a bull head. The cult animal of Baal was a bull.
Yea, ye took up the tabernacle of Moloch, and the star of your god Rephan, the images of them which ye made for yourselves. Amos 5.26 LXX
What is Rephan? Most scholars believe it is a reference to Saturn (Chiun) or a God identified as Saturn. Moloch has also been identified with Saturn. The passage in Amos refers to the Saturn worship which appears to have been in vogue in the prophet's days.8,9
The New Testament verse referencing Amos 5.26 -And you took up the tabernacle of Moloch and the star of your God Raiphan,the figures which you made in order to worship them and I will remove you beyond Babylon. Acts 7.43 . Strong's Concordance and Thayer's Greek Lexicon both hold Rephan or Raiphan to refer to Saturn.
The differing cults of Saturn all have references to child sacrifice. From the most ancient Mesopotamian god myths which grew into the Babylonian demon gods, through astrology ,most have identified with Saturn. Moloch seems to be the Canaanite version of Set. The Romans too worshiped Saturn and the Greeks called him Kronos. Osiris , the Egyptian god and his mythos is also linked to Saturn.
Whatever the original origin of the hexagram star, from the earliest know resources, it is linked to worship of false gods and heavenly bodies and human sacrifice. This symbol was never linked to the ancient Israelites who followed God. The bull symbol , is the form given to most of these false gods or taken as their sacred animal. Animal worship was also forbidden by God and many times in the scripture it is indicated that those who trespassed against God, worshiped this animal.
Jesus Christ never used the hexagram as a reference to Israel or to Christians. There is no evidence for it in Scripture. Astrology worship is always condemned in the Bible. Its origins lay in the mythologies of mongrel peoples and their astrology worship, handed down through centuries in their grimoires and kabbalah writings.
SURPRISING ORIGINS OF THE STAR OF DAVID
by Simona
As it often happens, my research (this time about the Star of David) made me find much more than I bargained for. I hope you will benefit from it.
The usage of the six-pointed star, called "the Star of David" as a sign of Jewish identity began only in the Middle Ages. Before that, the sign of the Jewish identity was always a menorah.
The religious usage of the Star of David among the Jews began much earlier, however. A shield with this star engraved was found in a synagogue in Galilee, dating to the third or fourth century AD.
CREATOR STAR ,STAR OF DAVID, OR SEAL OF SOLOMON ?
The name the "Star of David" is quite new.
Before it, this star was called the "Seal of Solomon".
The story of Solomon's seal was believed to be developed by medieval Arabic writers who claimed that Solomon's signet ring was engraved by God Himself and was given to Solomon from heaven.
It was claimed that this ring was made from brass and iron, and the two parts were used to seal the written commands to good and evil spirits.
Some, however, claim that the story of Solomon's seal was invented earlier than that and that its inventors were Jews themselves. At around the third century in Egypt Hellenistic Jews came up with this story which was done at the early development of their mystical side of religion.
Since the belief in the power of the ring of Solomon was so widespread and firmly believed in, I tend to believe that the most plausible explanation of Solomon's seal is that it indeed existed, and that it was probably given to him by his pagan Egyptian wife who was the daughter of Pharaoh, and therefore had most likely been initiated into the secrets of their religion;
That the ring indeed was used to command, invoke, and bind demons, but like any tools given by Satan, it just appears that the given thing has power – when, in truth, Satan makes demons act in a certain way in order to fool the person into believing that that particular item has that sort of power.
Even today this very sign is used by witches, pagans and open luciferians to summon demons.
This sign began to be used as an official Jewish identity symbol in and around the area of Germany from around the 17th century AD and it at first represented only Zionist community and only later – the whole community of Jews.
THE SEAL OF SOLOMON IN ISLAM
In Islam, the Beast of the Earth is believed to be in the possession of the signet ring of Solomon and with it will destroy unbelievers' noses so that it becomes clear who is a believer and who is an unbeliever.
Since the prophet of Islam received this religion from an evil spirit or Satan himself (since he himself at the beginning thought that he was demon-possessed), it's likely that there might be bits of truth in this story, as Satan likes to mix truths with lies.
What Muslims don't realize is that they themselves will get that mark, because they were misled by their demon-possessed false prophet and are all headed to the place where he will end up in – the lake of fire, unless they repent and turn to the real prophet and the only Son of YHWH Yeshua.
IDENTIFICATION OF JEWS DURING THE NAZI ERA
During the Nazi regime the Jews of many countries had to wear a hexagram as a mark of their identification. Some countries, such as some parts of France and Denmark, refused to implement this.
They usually had to wear a badge of a yellow star, or a white armband with a blue star of David. Even children were required to wear this identification mark, and it was also placed on Jew-owned stores.
Those who refused to wear this identification mark (in the countries where it was enforced) were fined, imprisoned, or shot according to Shoah Research Center.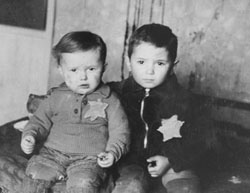 A yellow star to identity a Jew
.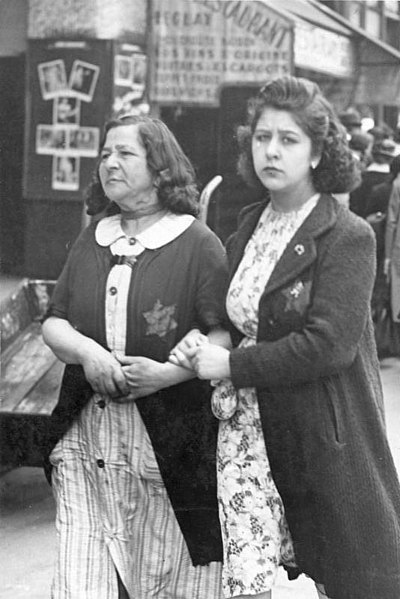 Doesn't that remind you of a mark of the beast in the book of Revelation?
And he causeth all, both small and great, rich and poor, free and bond, to receive a mark in their right hand, or in their foreheads:

And that no man might buy or sell, save he that had the mark, or the name of the beast, or the number of his name.

Here is wisdom. Let him that hath understanding count the number of the beast: for it is the number of a man; and his number is Six hundred threescore and six.
Was that a mini-rehearsal of what's coming?
THE MARK OF THE BEAST?
The strangest thing is – the Star of David does have a number 666:

It has six points, six outer triangles and a 6-sided hexagon in the middle. Also it makes sense that this could be a sign or mark of the beast, because it tells how those creatures came into being, and therefore it is indeed their sign – but about that later.
This might be the very star mentioned in the Bible, in Acts 7:43:
Yea, ye took up the tabernacle of Moloch, and the star of your god Remphan, figures which ye made to worship them: and I will carry you away beyond Babylon.
This is told in reference to Amos 5:26, which in KJV reads as:But ye have borne the tabernacle of your Moloch and Chiun your images, the star of your god, which ye made to yourselves.
… but in Septuagint it reads more closely to the NT words:
Yea, ye took up the tabernacle of Moloch, and the star of your god Raephan, the images of them which ye made for yourselves.
It is believed that god Remphan (or Raephan) was an Assyrian/Babylonian god of the planet Saturn, which makes total sense for many reasons. First, according to some sources, this star was used in connection to the child sacrifice, and we see Greek god Cronus (who is Saturn) depicted in reliefs as eating children.
Also, Cronus is one of the first twelve titans that came forth from the union of fallen angels and human women, so that seal could indeed be his symbol. Also it's interesting to note that according to the Greek mythology out of the union of "sky gods" and "Gaia" came forth twelve titans: six males and six females, which again would tie in to the number 6 of the star.
Also, one of the symbols of Greek god Cronus was a snake, and this is what ultimately false Jews worship though they pretend to worship YHWH. Those are the ones about whom Yeshua told that they call themselves Jews but are not.
Shiva, the god of destruction, in one of his most famous poses, actually disguises the hexagram as well: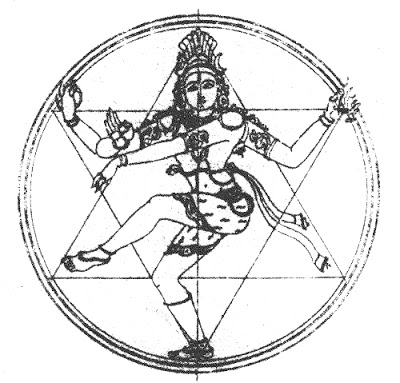 This is the very posture in which we see Shiva as a statue at CERN, and this posture signifies the dance of destruction and creation, since new-agers, Hindus and satanists believe that out of Chaos comes order, when it truth out of chaos comes nothing, and only when chaos is destroyed can order be established.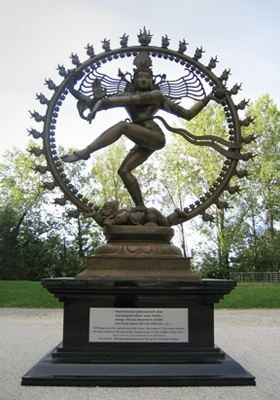 Shiva statue at CERN
.
Hexagram is also believed to be the star of Moloch, to whom pagans and even Israelites offered child sacrifice.
Therefore, this seal is a sort of family crest of the fallen ones. Thus this symbol is featured on masonic lodges' entrances, Catholic churches' entrances and windows; it is the sign that Lucifer worshippers, pagans and occultists use.
This symbol should not be the symbol of the children of YHWH since it's the symbol of the children of the fallen ones.
It would make sense if this would indeed be the mark of the beast, since it's the star already adopted by many religions, such as Hinduism, Buddhism, Judaism, Catholicism, Islam, Shinto and I'm sure many more religions.
The signet ring of Solomon story was known even in the first century AD, since Josephus mentions the story of one person using such a ring, though at that time it wasn't called "the Seal of Solomon" but the type of ring that Solomon recommended to expel demons from people by putting it near persons' nostrils.
From Mishnah it seems that Solomon was indeed carrying this ring on a chain that was probably around his neck, and that the ring had the name of God on it too. It was believed that this seal protected people from demons because when demons took a look at it they would get drawn into the never-ending inter-connected pattern of the star which, therefore, would bind them and made them harmless to humans. This is similar to how some Jews used incantation bowls in the past described in this article.
But again, I do not believe that this seal has any power, but that Satan likes to fool people into believing that signs as such hold power, when in truth demons just play with those persons.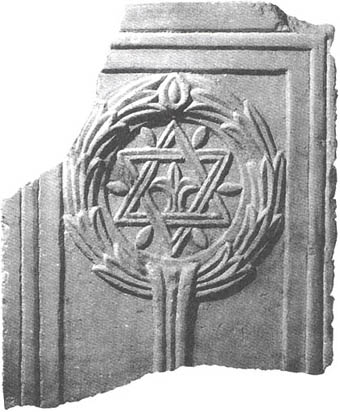 A Seal of Solomon with interwoven triangles etched in marble from a Byzantine Church (400-630 A.D.)
–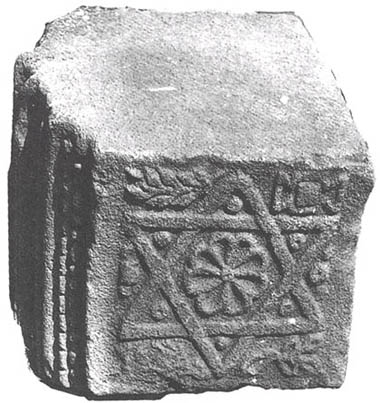 A Seal of Solomon carved upon a building stone of a synagogue (200 – 400 A.D).
.
Some cathedrals had this star featured as well, and it was sometimes called "the star of creation" in Catholicism, and it was used by some Christian sects as well. Here's the image from the stained glass window of Winchester Cathedral, with the name of God in Hebrew in the middle: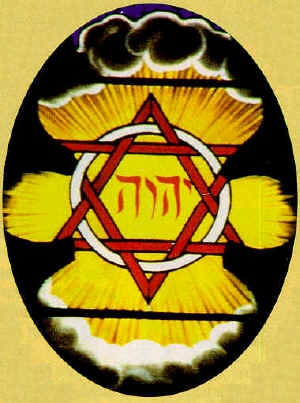 Star of David in Winchester Cathedral
–
The shape of the rays reminds me of a famous Babylonian winged disc, present on many of their reliefs and seals: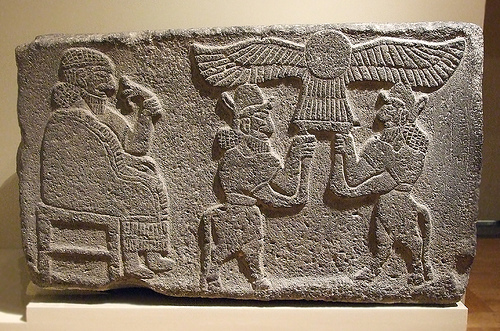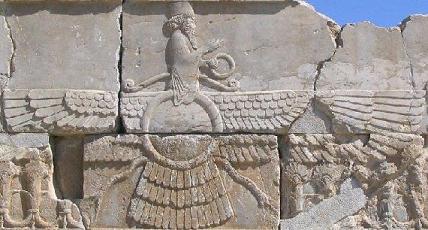 THE MOST LIKELY ORIGIN OF THE STAR OF DAVID
The most ancient origin theory, and I believe the one that is true, about how the Star of David came into being, is the one told by ancient cultures.
It's told that it's the sign of a sky god producing (in Hindu mythology – a six-faced) offspring with the mother earth.
What it most likely means is that it's the symbol of the sons of YHWH descending to mate with human women and abnormal giant offspring born to them. (Those fallen ones wanted to be worshipped as gods on earth, and therefore lied to people that they were formed out of chaos, and were first gods; they probably did that out of anger that they were banished from Heaven and because they did not want people to know that there is a God higher than them, because then people would not worship them.)
This makes total sense when you analyze the hexagram…

….because it shows a downward-pointed triangle representing the sons of God and an upward-pointed triangle – representing earthly human women, and the intersection of those triangles represents the act of procreation. Even today the downward-pointed triangle represents men and the upward-pointed one – women.
Here's a Hindu mandala most likely showing the twelve offspring born to them – 6 males and 6 females as told in the Greek mythology: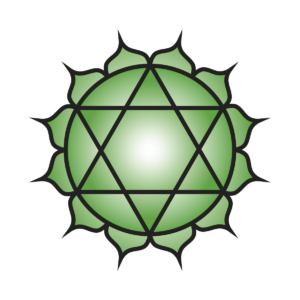 Which also ties in with the false Big Bang theory.
The act is represented as this star as well, if you know what I mean, as well as a lie that the gods were formed out of chaos; though it's modified into the theory that everything came out of chaos, which is a totally satanic doctrine that many people have bought into, even Christians.
This explanation just sounds right to me, but I might be wrong. Though I haven't come across any more theories as plausible as such. I guess another plausible one is that this sign also represents "as above so below" masonic belief.
LASTLY…
I know that sometimes we see six-pointed shapes in nature, such as in the form of a snowflake. Some people use this as a proof that the Star of David is nothing evil.
I personally don't know any natural hexagram formations, though some, like snowflakes, can have six spikes; but apart from this they don't really look like the Star of David.
Judging from the kind of groups that revere this symbol, and the spiritual value that it holds for witches, masons and satanists, I would steer clear of this sign.
Not to mention that religions are now coming into unison for the new-world-order, and this sign that is common between them might as well be the feared mark, judging from the fact that it was already implemented as a sort of test by Nazis, and that the Muslim Beast of the Earth is believed to be marking people with this sign as well.
SOME INTERESTING IMAGES WITH THE STAR OF DAVID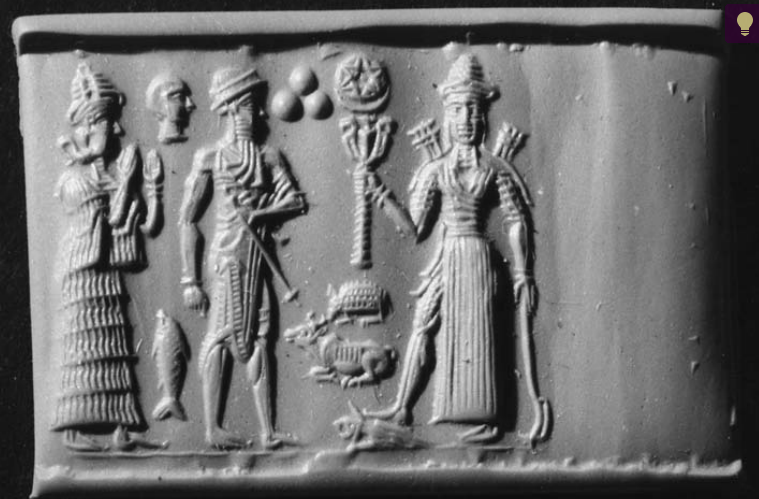 An impression of Babylonian seal showing goddess Ishtar carrying a staff with the six-pointed creation star.
.
Aerial photograph of Heathrow Airport, 1955
.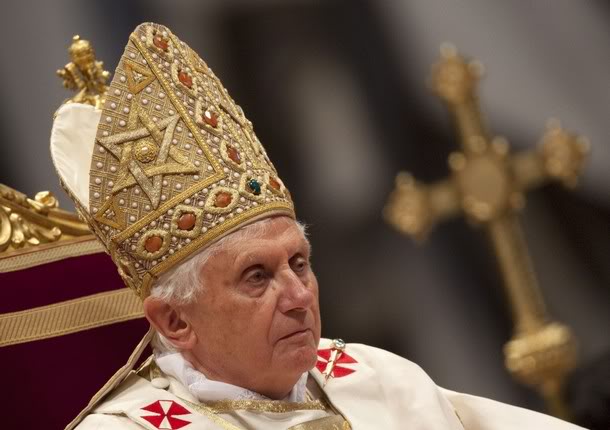 The Seal of Solomon on pope's mitre.
The Creator Star otherwise known as Star of Moloch, David and Solomon has been depicted in many ways from the old world and the New world.
These depictions have been shown as a full Star , hollow star and even with deitys and other designs within however the star shape has always remained the same.
Again we at Sovereignaustralian are merely displaying the facts and the symbolism behind such a star .
Surely any individual after considering all the information provided would carefully consider ones actions after all you could very well be regarded by many as showing allegiance to Moloch and are an advocate for sacrifices of children in his honor 🤔
As usual we shall let you the adult decide , after all its your life .
SOURCES
LEARN MORE in these Britannica and other related articles: