Local Agenda 21 is a process that aims to integrate the social, environmental and economic aspects of development in order that all future development is 'sustainable'.
Agenda 21 is a comprehensive plan of action to be taken globally, nationally and locally by organizations of the United Nations System, Governments, and Major Groups in every area in which human impacts on the environment.
We have spoken about these things in other articles regarding the New World Order so in this article you will only find a brief summary.
sustainabledevelopment.un.org/content/documents/Agenda21.pdf
Agenda 21 is grouped into 4 sections:
The full text of Agenda 21 was made public at the UN Conference on Environment and Development (Earth Summit), held in Rio de Janeiro on 13 June 1992, where 178 governments voted to adopt the program. The final text was the result of drafting, consultation, and negotiation, beginning in 1989 and culminating at the two-week conference.
Rio+5 (1997)
In 1997, the UN General Assembly held a special session to appraise the status of Agenda 21 (Rio +5). The Assembly recognized progress as "uneven" and identified key trends, including increasing globalization, widening inequalities in income, and continued deterioration of the global environment.
A new General Assembly Resolution (S-19/2) promised further action.
Rio+10 (2000)
Main article: World Summit on Sustainable Development
The Johannesburg Plan of Implementation, agreed to at the World Summit on Sustainable Development (Earth Summit 2002), affirmed UN commitment to "full implementation" of Agenda 21, alongside achievement of the Millennium Development Goals and other international agreements.
Agenda 21 for culture (2002)
Main article: Agenda 21 for culture
The first World Public Meeting on Culture, held in Porto Alegre, Brazil, in 2002, came up with the idea to establish guidelines for local cultural policies, something comparable to what Agenda 21 was for the environment.
 They are to be included in various subsections of Agenda 21 and will be carried out through a wide range of sub-programs beginning with G8 countries.
Rio+20 (2012)
Main article: United Nations Conference on Sustainable Development
In 2012, at the United Nations Conference on Sustainable Development the attending members reaffirmed their commitment to Agenda 21 in their outcome document called "The Future We Want". Leaders from 180 nations participated.
Sustainable Development Summit (2015)
Main article: Sustainable Development Goals
Agenda 2030, also known as the Sustainable Development Goals, was a set of goals decided upon at the UN Sustainable Development Summit in 2015.
It takes all of the goals set by Agenda 21 and re-asserts them as the basis for sustainable development, saying, "We reaffirm all the principles of the Rio Declaration on Environment and Development…"
Adding onto those goals from the original Rio document, a total of 17 goals have been agreed on, revolving around the same concepts of Agenda 21; people, planet, prosperity, peace, and partnership
Implementation
The Commission on Sustainable Development acts as a high-level forum on sustainable development and has acted as preparatory committee for summits and sessions on the implementation of Agenda 21.
The UN Division for Sustainable Development acts as the secretariat to the Commission and works "within the context of" Agenda 21.
Implementation by member states remains voluntary, and its adoption has varied.
Local level
See also: International Council for Local Environmental Initiatives
The implementation of Agenda 21 was intended to involve action at international, national, regional and local levels. Some national and state governments have legislated or advised that local authorities take steps to implement the plan locally, as recommended in Chapter 28 of the document. These programs are often known as "Local Agenda 21" or "LA21".
For example, in the Philippines, the plan is "Philippines Agenda 21" (PA21). The group, ICLEI-Local Governments for Sustainability, formed in 1990; today its members come from over 1,000 cities, towns, and counties in 88 countries and is widely regarded as a paragon of Agenda 21 implementation.
Europe turned out to be the continent where LA21 was best accepted and most implemented.
In Sweden, for example, all local governments have implemented a Local Agenda 21 initiative.
Regional levels
The UN Department of Economic and Social Affairs' Division for Sustainable Development monitors and evaluates progress, nation by nation, towards the adoption of Agenda 21, and makes these reports available to the public on its website.
Australia link agenda 21 un .org
Australia is a signatory to Agenda 21 and 88 of its municipalities subscribe to ICLEI, an organization that promotes Agenda 21 globally. Australia's membership is second only to that of the United States.
Agenda 2030
Transformation of our world pdf
The Sustainable Development Goals (SDGs) or Global Goals are a collection of 17 interlinked global goals designed to be a "blueprint to achieve a better and more sustainable future for all".
 The SDGs were set up in 2015 by the United Nations General Assembly and are intended to be achieved by the year 2030.
They are included in a UN Resolution called the 2030 Agenda or what is colloquially known as Agenda 2030.
The SDGs were developed in the Post-2015 Development Agenda as the future global development framework to succeed the Millennium Development Goals which ended in 2015.
UN CHIEF calls for fair globalisation.
24 September 2019 SDGs
"We need more investment, more political action, more priority for a fair globalization", said UN Secretary-General António Guterres in an interview on Thursday, when asked about his expectations for the first-ever Sustainable Development Goals (SDG) Summit, on 24-25 September at New York headquarters.
Mr. Guterres emphasized that, with just over 10 years to go, the world is not on track to hit targets related to sustainable development, and urged world leaders to "take the decisions necessary, in order to come together more effectively to make sure that the 2030 Agenda is successfully implemented".
Accelerating progress towards a better future
In 2015, the Member States of the UN adopted the landmark 2030 Agenda, which provides a blueprint for the transition to a healthier planet and a more just world, for present and future generations.
The Agenda is broken down into 17 Sustainable Development Goals, concrete targets concrete targets, to end poverty and hunger; expand access to health, education, justice and jobs; promote inclusive and sustained economic growth; while protecting our planet from environmental degradation.
Although positive results have been reported, global efforts have been hampered by challenges such as conflict, climate change, lack of access to essential health services, growing inequalities and significant financing gaps.
The SDG Summit, which is one of the five important high-level summits and meetings talking place during the opening week of the latest session of the UN General Assembly, will allow leaders from government, business and other sectors to identify specific actions that can help get the SDG response back on track, with a decade of action and delivery still in play, in the lead up to the 2030 deadline.
The format will break down the topics into six "dialogues", pairing a leader of a developing country, with the head of a developed country as co-moderators.
The themes of each dialogue are "megatrends", accelerating the SDGs, measures to leverage progress, localizing the SDGs, partnerships for sustainable development, and the 2020-2030 vision.
The Summit is expected to conclude with a Political Declaration of Heads of State and Government, that provides political guidance how to step up the pace of implementation of the 2030 Agenda and SDGs, and a series of SDG acceleration actions.
World economic forum great reset video link
The Paris Agreement is a legally binding international treaty on climate change. It was adopted by 196 Parties at COP 21 in Paris, on 12 December 2015 and entered into force on 4 November 2016.
Its goal is to limit global warming to well below 2, preferably to 1.5 degrees Celsius, compared to pre-industrial levels.
To achieve this long-term temperature goal, countries aim to reach global peaking of greenhouse gas emissions as soon as possible to achieve a climate neutral world by mid-century.
The Paris Agreement is a landmark in the multilateral climate change process because, for the first time, a binding agreement brings all nations into a common cause to undertake ambitious efforts to combat climate change and adapt to its effects.
How does the Paris Agreement work?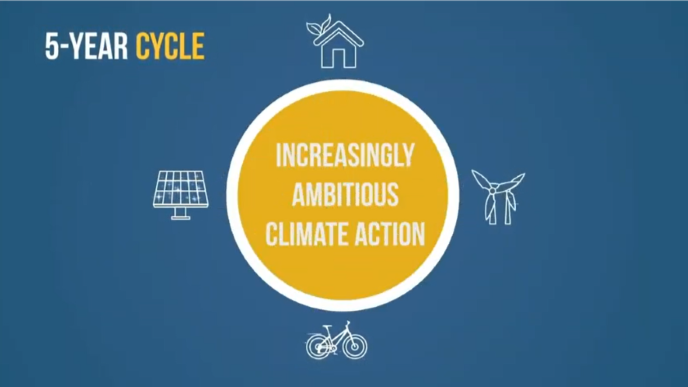 Implementation of the Paris Agreement requires economic and social transformation, based on the best available science. The Paris Agreement works on a 5- year cycle of increasingly ambitious climate action carried out by countries. By 2020, countries submit their plans for climate action known as nationally determined contributions (NDCs).
NDCs
In their NDCs, countries communicate actions they will take to reduce their Greenhouse Gas emissions in order to reach the goals of the Paris Agreement. Countries also communicate in the NDCs actions they will take to build resilience to adapt to the impacts of rising temperatures.
Long-Term Strategies
To better frame the efforts towards the long-term goal, the Paris Agreement invites countries to formulate and submit by 2020 long-term low greenhouse gas emission development strategies (LT-LEDS).
LT-LEDS provide the long-term horizon to the NDCs. Unlike NDCs, they are not mandatory. Nevertheless, they place the NDCs into the context of countries' long-term planning and development priorities, providing a vision and direction for future development.